Construction inspection services based in Indianapolis Indiana
2/10/2016
CALIFORNIA
Laguna Beach
Tunnel   Stabilization   and   Sewer   Pipeline   Replacement
Approved by the South Coast Water District Board of Directors in 2010 and the City of Laguna Beach in late 2013, the Tunnel Stabilization & Sewer Pipeline Replacement Project (Tunnel Project) is a 100-year solution to protect the environment, local economies and neighboring communities. The project comprises two key components:
Tunnel Stabilization: The District will enlarge the size of the tunnel from an average of 6 to 9 ft. This will ensure safer working conditions and greater access for future pipeline maintenance and repair. Permanent shotcrete lining and steel supports will be installed at several locations where required, replacing rotten timber supports and removal of loose rock that currently exist.
Pipeline Replacement: The District will install a new 24-in. pipeline throughout the tunnel. The current pipeline – also 24 in. in diameter – will be encased in concrete, but preserved for redundancy and emergency use.
The cost to repair the tunnel is estimated at approximately $90 million and will be funded through low-interest state loans, grants and the District's general fund. Shortlisted tunnel contractors announcement was anticipated for 2014-2015 with request for bids expected in 2015 and NTP in 2015-2016.
Los Angeles
The   North East   Interceptor   Sewer   (NEIS)   Phase   2A
The North East Interceptor Sewer (NEIS) Phase 2A project is currently the northern extension of the NEIS Phase 1 project. The project will construct approximately 3.03 miles of 8-ft diameter sewer in tunnel and associated structures. The sewer will be constructed from the Division St. Shaft site, near the intersection of San Fernando Road and Cazador Street and terminate at the northern overflow parking lot for the Pony and Train […]
Trips from Southport to southern Johnson County can take up to an hour longer
Southside commuters are swerving, merging and yielding a lot for road construction this summer — and there's little relief in sight.
From Southport Road to Edinburgh and beyond, concrete testing barricades and orange traffic barrels on Interstate 65 have led drivers through myriad lane shifts and closures, adding precious time to rush-hour commutes, as the highway and bridges are rebuilt or repaired.
Alternative routes, including portions of U.S. 31, also are being revamped.
"There aren't too many areas (of I-65) where we don't have construction testing and inspection going on right now," said Indiana Department of Transportation spokesman Harry Maginity. "If you are driving from Indianapolis to Louisville (Ky.), you are going to see a lot of it all year."
The biggest projects are on I-65 around Greenwood where about 63,000 cars travel both ways each day. Heavy machinery in the blocked-off medians and on bridges has made space in the travel lanes tight and twisting. Combined with reduced speeds, the journey in and out of Indianapolis can add more than hour of travel time for a trip between Southport and Edinburgh.
"Our drivers plan that a trip from I-465 on the […]
Testing method
A percolation test consists of digging one or more holes in the soil of the proposed leach field to a specified depth, presoaking the holes by maintaining a high water level in the holes, then running the test by filling the holes to a specific level and timing the drop of the water level as the water percolates into the surrounding soil. There are various empirical formulae for determining the required size of a leach field based on the size of facility, the percolation test results, and other parameters.
For leach line testing, a minimum of three test holes are drilled, most commonly six to eight inches in diameter. Ideally, these should be drilled to different depths from three to six feet below the surface. For better, more conclusive results, five drill holes are used in a pattern of one hole at each corner of the proposed leach field and one test hole in the center. Testing of these holes will result in a value with units of minutes per inch. This value is then correlated to a predetermined county health code to establish the exact size of the leach field.
Testing for horizontal pits typically requires five to eight test holes drilled in a straight line, or along a common contour, from three to ten feet below the surface. Testing is identical to leach line testing, though the end result is a different type of septic system, established through a different calculation.
Vertical seepage pits are slightly different in testing methods due to their large size, but the basic testing method is essentially the same. A hole, typically three to four feet in diameter is drilled to a depth of twenty or thirty […]

Indiana highway contractor Brooks Construction said the transportation department's specifications are to blame for the state's asphalt problems.
Indiana highway contractor Brooks Construction said it will not comply with the Indiana Department of Transportation's (INDOT) ultimatum that the company either refund $5.15 million or re-install three miles of crumbling asphalt, according to a statement released by John Brooks, executive vice president of Brooks Construction.
Brooks said INDOT conducted 72 successful tests on the asphalt mix in question during the course of the project, paid his company in full for their work, and even paid bonuses of $18,000 for "an asphalt mix that exceeded requirements."
INDOT is currently testing asphalt samples from 188 recent road projects across the state, and up to $71 million worth of pavement may be defective and could deteriorate ahead of schedule due to flaws in the asphalt mix.

Brooks Construction is the first contractor to be held responsible since INDOT begain its investigation into the faulty asphalt on state roads, and INDOT has not yet released any other results that implicate other highway contractors.

INDOT maintains that the fault lies in the asphalt mix that contractors have been using, but critics of INDOT blame the road problems on the recycled asphalt INDOT incorporated into its specifications in 2010.

In response to Brooks' refusal to comply with INDOT's demand, an INDOT spokesman told WRTV that the department would seek to resolve the issue through Brooks' insurance company.

"As a family-owned business building projects in Indiana for more than 100 years, we are committed to working with INDOT to resolve the state's widespread pavement issues," Brooks said in his statement. "We will not, however, accept legal responsibility for an industry problem caused by INDOT's specifications and quality assurance […]
August 8, 2015
Geotechnical Experts on site Today Developing a Plan at Wildcat Creek Bridge
TIPPECANOE COUNTY, Ind. – Geotechnical experts observed conditions at the I-65 northbound bridge over Wildcat Creek today and are working to test and analyze the soils and develop a detailed plan to address and prevent further pier settlement.
INDOT Commissioner Brandye Hendrickson briefed Governor Mike Pence by phone today and he is monitoring the situation.
What happened

Structural engineers monitoring the I-65 northbound bridge over the Wildcat Creek noticed movement in the riverbank pier and ordered the bridge closed Friday afternoon.  An estimated reopening date for the bridge will not be known until soils testing and analysis is completed.  INDOT will work to provide updates as new information is available.
Detour

I-65 northbound merges to one lane and is diverted onto U.S. 52 at Exit 141 north of Lebanon. Follow U.S. 52 north for nearly 17 miles, then turn left at State Road 28. Follow S.R. 28 west for about 10 miles, then turn right onto U.S. 231. Follow U.S. 231 north for about 33 miles until it intersects I-65 again in White County.
INDOT thanks the motoring public for their patience while engineers and other experts work to safely reopen the bridge.  INDOT is installing temporary traffic signals at the S.R. 28 intersections with U.S. 52 and U.S. 231.  Until those are completed late on Sunday, INDOT and law enforcement staff are helping to direct traffic.
INDOT engineers are monitoring traffic flow on U.S. 231 signals and adjusting timing patterns.  INDOT has asked contractors to suspend work where the official detour rejoins I-65 in White County.
Message alerting travelers of […]
Pattern Development Completes Financing and Starts Construction of Amazon Wind Farm Project in Indiana
150 MW wind project to use American-made turbines and create more than 300 jobs; Power to be acquired by Amazon
SAN FRANCISCO , May 4, 2015 /CNW/ — Construction is ramping up at the Amazon Wind Farm (Fowler Ridge) project. Pattern Energy Group LP ("Pattern Development") today announced the closing of financing on the 150 megawatt (MW) Amazon Wind Farm (Fowler Ridge) project located in Benton County, Indiana . The project has entered into a 13-year power purchase agreement with Amazon to supply electricity to the electric grids that service Amazon Web Services, Inc. (AWS) datacenters.
"The Amazon Wind Farm project has successfully closed financing and is moving ahead on schedule," said Mike Garland , President and CEO of Pattern Development. "We look forward to helping Amazon power its customers' businesses with domestic clean energy harnessed from the winds of Indiana . We are now working with Amazon, Google and Walmart, demonstrating that America's leading corporations are increasingly investing in, or buying power from, non-polluting energy sources like wind power. We see this growing trend driving the development of more new projects."
The Amazon Wind Farm (Fowler Ridge) project will utilize 65 Siemens 2.3 MW turbines with 'Made in America' components. The turbine blades are being manufactured at the Siemens factory in Ft. Madison, Iowa and the nacelles are being assembled at the Siemens facility in Hutchinson, Kansas . The turbine towers […]
INDIANAPOLIS (AP) — Work has halted on part of a new downtown Indianapolis transit center after workers discovered an old building foundation several feet below ground.
IndyGo spokesman Bryan Luellen says the foundation might date as far back as the late 1800s. He says workers also found objects including pieces of glass, flatware and chunks of vases that were left behind when the building was demolished.
Construction has stopped on the part of the site where the foundation lies. Luellen tells The Indianapolis Star (http://indy.st/1cDdYSP ) that the transportation agency has hired architects to determine whether the foundation is historically important.
The $20 million transit center could still open partially finished and on time later this year.
A Republican-backed measure that will repeal Indiana's law setting wages for state and local government construction projects has been approved by Gov. Mike Pence.
INDIANAPOLIS (AP) –
Pence signs repeal of IN construction wage law
A Republican-backed measure that will repeal Indiana's law setting wages for state and local government construction projects has been approved by Gov. Mike Pence.
Pence signed the legislation Wednesday and says it will allow the free market to determine pay scales rather than government boards.
Supporters estimate the change will reduce project costs by as much as 20 percent by allowing more contractors to pay wages below union scale. Opponents dispute such savings will occur and say it will open the door for low-paying, out-of-state contractors.
The measure sparked controversy during this year's legislative session, including a rally that brought thousands of contractors and union members to the Statehouse lawn in April.
The repeal takes effect in July.
(right to left) Ken McMullen (MDot), Matt Webb (HNTB Consultant), Mohammed Alguhurabi (MDot) and Tom Walls (City of Ft. Wayne) look over plan specifics in Gary on October 30, 2014. | Jim Karczewski/For Sun-Times Media
The Michigan Department of Transportation is overseeing the project alongside agencies in Indiana and Illinois.
The plan considered using existing Amtrak lines between Chicago and Porter, Indiana, but none would allow for more trips per day or the high speeds that are necessary. Currently, Amtrak offers three round trips daily between Chicago and Detroit.
Officials discussed four routes that would require capital investments ranging from $2.3 billion to $3 billion and annual maintenance of about $155 million. Two of the routes might have an impact on the Indiana Dunes National Lakeshore, and all would require construction of bridges and other structures to avoid freight traffic in Northwest Indiana.
All but one of the possible routes would stop at the Hammond/Whiting and Michigan City stations, but project officials said there is talk about building an additional station in Northwest Indiana. No likely candidates have been named, but several attendees mentioned a stop near the Gary/Chicago International Airport as being ideal.
The Rev. Asher Harris of the Northwest Indiana Interfaith Alliance said a connection between passenger rail and the airport makes sense.
"There should be something happening, particularly with the possibility of passenger airlines," Harris said. "We certainly need a connection."
Harris said a project of this magnitude also could spur economic development in Gary.
"We don't want our citizens left behind," he said. "There must be jobs."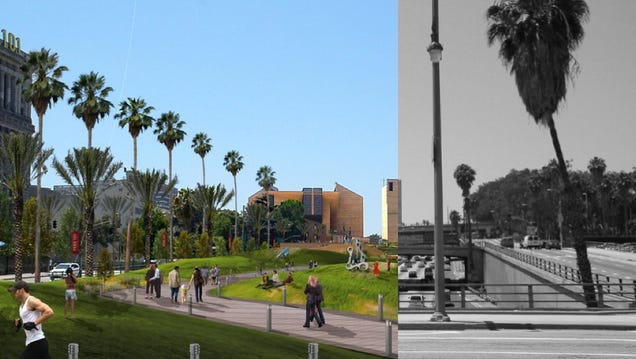 Expand
It seemed like a good idea at the time, right? We'd build vast, multi-lane roads slicing through the center of our cities, bulldozing our most historic architecture and displacing tens of thousands of residents at a time, all in the name of progress. 50 years later these genius improvements have severed our neighborhoods, ruined our air, and may not even have helped that much in the way of traffic. So why have a freeway exposed like a gaping, oozing urban wound when you can put a park on it?
Freeway cap parks (or highway cap parks, or turnpike cap parks, depending on your preferred regional dialect and/or toll system) are the hot new way for cities to dial down the noise, pollution and blight that come with those pesky interstates. Facing rapidly growing populations as more people move back into urban areas, many cities across the country are looking at them as a way to quickly reclaim valuable public space.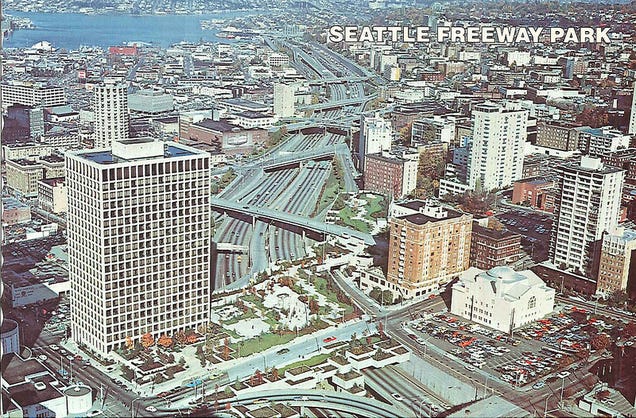 Expand
It's not a new idea, of course. Freeway cap parks have been around for as long as freeways. Technically, the Brooklyn Heights Promenade, where the BQE tucks under a pedestrian walkway, is a freeway cap dating to the 1950s. Seattle's too-aptly-named Freeway Park (above) was constructed in 1976 as a Brutalist wonderland where the sound of waterfalls (almost) drown […]