Geotechnical Engineer Indianapolis
(right to left) Ken McMullen (MDot), Matt Webb (HNTB Consultant), Mohammed Alguhurabi (MDot) and Tom Walls (City of Ft. Wayne) look over plan specifics in Gary on October 30, 2014. | Jim Karczewski/For Sun-Times Media
The Michigan Department of Transportation is overseeing the project alongside agencies in Indiana and Illinois.
The plan considered using existing Amtrak lines between Chicago and Porter, Indiana, but none would allow for more trips per day or the high speeds that are necessary. Currently, Amtrak offers three round trips daily between Chicago and Detroit.
Officials discussed four routes that would require capital investments ranging from $2.3 billion to $3 billion and annual maintenance of about $155 million. Two of the routes might have an impact on the Indiana Dunes National Lakeshore, and all would require construction of bridges and other structures to avoid freight traffic in Northwest Indiana.
All but one of the possible routes would stop at the Hammond/Whiting and Michigan City stations, but project officials said there is talk about building an additional station in Northwest Indiana. No likely candidates have been named, but several attendees mentioned a stop near the Gary/Chicago International Airport as being ideal.
The Rev. Asher Harris of the Northwest Indiana Interfaith Alliance said a connection between passenger rail and the airport makes sense.
"There should be something happening, particularly with the possibility of passenger airlines," Harris said. "We certainly need a connection."
Harris said a project of this magnitude also could spur economic development in Gary.
"We don't want our citizens left behind," he said. "There must be jobs."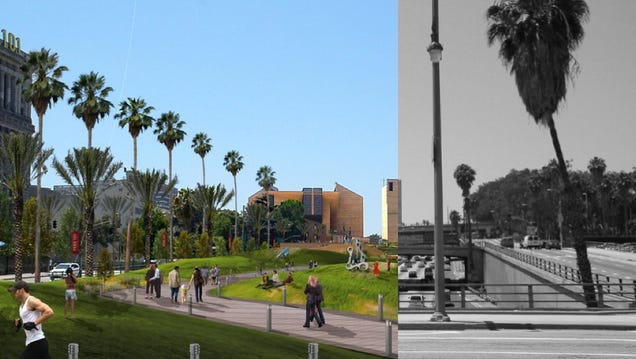 Expand
It seemed like a good idea at the time, right? We'd build vast, multi-lane roads slicing through the center of our cities, bulldozing our most historic architecture and displacing tens of thousands of residents at a time, all in the name of progress. 50 years later these genius improvements have severed our neighborhoods, ruined our air, and may not even have helped that much in the way of traffic. So why have a freeway exposed like a gaping, oozing urban wound when you can put a park on it?
Freeway cap parks (or highway cap parks, or turnpike cap parks, depending on your preferred regional dialect and/or toll system) are the hot new way for cities to dial down the noise, pollution and blight that come with those pesky interstates. Facing rapidly growing populations as more people move back into urban areas, many cities across the country are looking at them as a way to quickly reclaim valuable public space.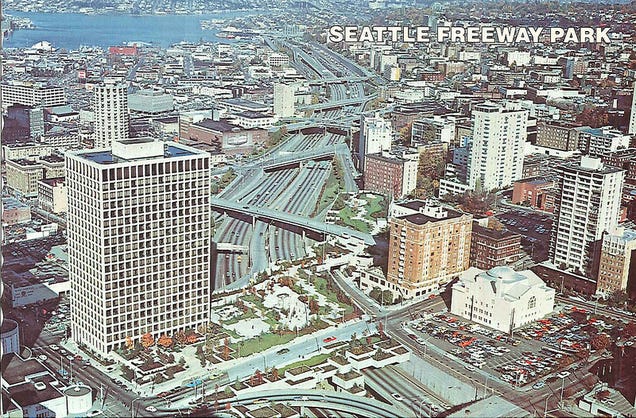 Expand
It's not a new idea, of course. Freeway cap parks have been around for as long as freeways. Technically, the Brooklyn Heights Promenade, where the BQE tucks under a pedestrian walkway, is a freeway cap dating to the 1950s. Seattle's too-aptly-named Freeway Park (above) was constructed in 1976 as a Brutalist wonderland where the sound of waterfalls (almost) drown […]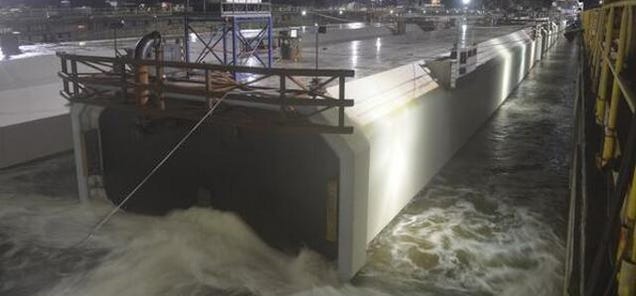 Throughout the summer, six large barge-like vessels floated out of Baltimore's harbor. These weren't boats, they were giant concrete tubes, destined for a tunnel in Southern Virginia that will expand a busy subterranean highway that connects two parts of the state.
This week, those tunnel segments will start to be installed under the Elizabeth River and engineering firm Skanska has released detailed information about how exactly they are burying those 16,000-ton tunnel segments below a muddy riverbed.
The Elizabeth River Tunnels is a transportation project launched in 2011 to double the capacity of the existing Midtown Tunnel, which connects the cities of Norfolk and Portsmouth, Virginia by car. It's one of the largest infrastructure projects currently happening in the U.S. But it's also in an extremely sensitive ecological region—the Elizabeth is the same river that's part of a larger restoration program to clean and repair the watershed that I've written about before. The project needs to have as light a touch on the surrounding environment as possible.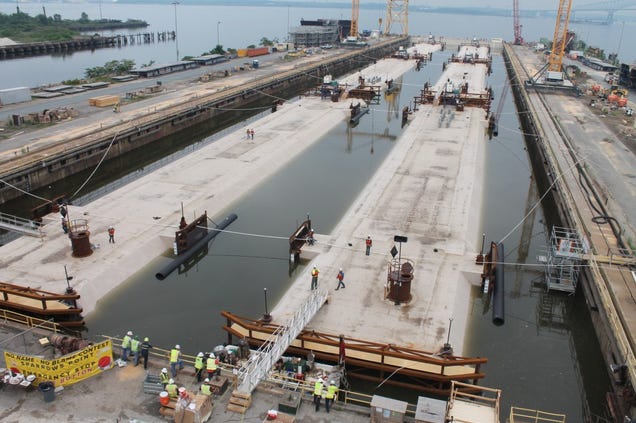 Expand
Since the tunnel segments were cast in Baltimore, the first step for the journey was to transport those segments almost 220 miles away. Obviously the 350-foot-long concrete tubes were far too heavy (and inefficient) to haul via truck, so engineers used the river's natural transportation power. The segments were closed off on one side […]
MALEK M. SMADI, PH.D., P.E.
Principal Engineer
GEOTILL Inc.
Strategic Management, Harvard University, 2012
Ph.D., Civil Engineering , University of Illinois at Urbana Champaign, 2001
Dr. Smadi provided geotechnical engineering services for over 27 years on projects in Indianapolis, State of Indiana and other States which include airport facilities, stadiums, embankments and levee evaluations and designs, multi span and long span bridges, highways, railroads, industrial plants, high rise and commercial structures, water and wastewater treatment plants, power generating stations, hydropower structures and dams, waterfront and docking facilities including the hydrodynamic pressure resulting from earthquakes, slope stabilization and retaining structures.
Dr. Smadi's research and professional interests include foundation engineering, construction problems, numerical techniques, granular soils subjected to earthquakes, ground modification technology, and underground construction.
In addition to the work as practitioner engineer and researcher, Dr. Smadi worked at Purdue University at Fort Wayne (IPFW) in teaching geotechnical engineering and related areas such as soil mechanics and foundation engineering.   Or (317) 449-0033 Ext. 101